ISO
Elektrotechnický zkušební ústav, s.p. is one of the largest Czech accredited certification companies that provides comprehensive management system verification and certification services to its customers:
Information security (information system) management – ČSN ISO/IEC 27001 (ISMS),
IT services management (ITSM) – ČSN ISO/IEC 20000-1
Systems and software engineering – System life cycle processes ISO/IEC 15288
Software life cycle processes – ISO/IEC 12207
Outside the area of information technology is the EZU, s.p. focuses in particular on system auditing and certification:
Quality management – ČSN EN ISO 9001 (QMS),
Quality management for medical devices – ČSN EN ISO 13485,
Environmental management – ČSN EN ISO 14001 (EMS),
Occupational health and safety management – ČSN OHSAS 18001 (SM BOZP).
A further and related auditing and certification, such as:
Community eco-management and audit scheme (EMAS III) – Regulation (EC) No 1221/2009 of the European Parliament and of the Council
Granting a license mark: Quality and safe assembly
Contact person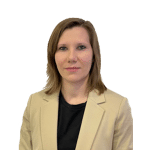 Ing. Lenka Mariánková
Product Manager