Our company always pays great attention to suggestions from our customers or complaints, which we consider as suggestions for improvement.
We especially welcome written suggestions, which you can send to the e-mail address: rteufl@ezu.cz
If you suspect a fake certificate, you can send a copy to the e-mail address msedlacek@ezu.cz, and we will respond back on the authenticity and validity of the certificate.
We will deal with your suggestions immediately and will send you our response as soon as possible.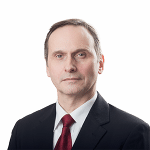 Mgr. Miroslav Sedláček
Head of Certification Body