ISO/IEC 20000-1
The ČSN ISO/IEC 20000 is the first global standard intended specifically for IT service management. It describes an integrated set of management processes for the efficient provision of IT services to business partners and customers. The ČSN ISO/IEC 20000 standard supplements the process approach defined within the ITIL (Information Technology Infrastructure Library) publication series, which represents a collection of best practices in the context of IT service management.
ČSN ISO/IEC 20000-1
is a formalized specification defining requirements that are to be met for an organization to provide its customers with IT services on an acceptable level.
Range of requirements under the standard:
Requirements for the management system
Planning and implementation of service management
Planning and implementation of new or changed services
Processes related to the provision of services
Processes of relationships with business and customers
Processes of solving incidents and problems
Management processes
Processes related to the release of a service
ČSN ISO/IEC 20000-2 is a collection of principles that describes best practices in service management processes within the scope of the ČSN ISO/IEC 20000-1. The collection of principles will mainly be used by organizations preparing for an audit in accordance with the ČSN ISO/IEC 20000-1 or planning to improve their services.
In 2006, EZÚ was accredited by the Czech Accreditation Institute to conduct audits and award certificates in accordance with the ČSN ISO/IEC 20000-1 standard.
Contact person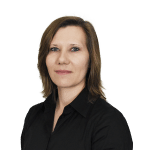 Ing. Lenka Mariánková
Product Manager