ISO 13485
The Electrotechnical Testing Institute has a long tradition and experience in the certification of medical devices and verification of the quality management systems of their manufacturers and suppliers. We offer you the opportunity to take advantage of our experience, knowledge and technical equipment as well
The EN ISO 13485:2003 standard was published as a harmonized standard for the European Directives 93/42/EEC and 90/385/EEC in the Official Journal of the European Union, which enables its use to demonstrate conformity with the requirements of these European Directives.
The ČSN EN ISO 13485:2016 standard was prepared in view of the higher demands placed on the quality management systems of the suppliers and manufacturers of medical devices. The ČSN EN ISO 13485:2016 standard defines criteria for the entire scope of the quality management system for medical devices.
A certificate issued in accordance with the the ČSN EN ISO 13485:2016 standard covers the whole management system of an organization producing or supplying medical devices and related services.
We offer certification of quality management systems in accordance with the ČSN EN ISO 13485:2016 standard for:
Active implantable medical devices – annexes 2, 5
Active medical devices – annexes 2, 5, 6
Non-active medical devices – annexes 2, 5, 6
Non-active implantable medical devices – annexes 2, 5, 6
Contact person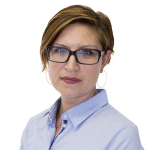 Petra Berková
Product Manager