Personal certification
Due to the security roles newly defined in Decree no. 82/2018 Sb. to Act no. 181/2014 Coll., and mainly due to the actual need for these roles in organisations, EZÚ has prepared a product called Personal Certification. Personal Certification takes on the form of training followed by testing your knowledge in a certification exam.
The training focuses on the applicable international standards and legislation related to cyber security. The specific content varies depending on the selected security role and level of expertise (see below).
The course closes with a certification exam. Upon the successful passing of the certification exam, the candidate is awarded a personal certificate. However, the certification exam may be also taken without previously attending the training, but, given the specificity of the issue, it is recommended to complete the training.
A cyber security manager is responsible for cyber security as a whole. He/she focuses primarily on addressing security events and incidents, asset and risk management, the creation of security policies, and reducing costs and risks. He/she also ensures that security measures are in place and takes on a proactive approach. The training and the subsequent certification exam focus on the above and many other activities.
A cyber security auditor is responsible for auditing cyber security. The qualification, knowledge and abilities will help you when auditing the proper configuration of the system, risk management, and other areas according to applicable international standards and legislation of the Czech Republic relating to cyber security. The auditor must hold the position of the CS manager or the CS architect at the same time and must not audit his/her own work.
Mastering and improving the knowledge necessary to build secure and stable information security management system (ISMS) architecture in an organisation in accordance with ISO/IEC 27001, using ISO/IEC 27002, ISO/IEC 27011 and complying with the requirements of Act no. 181/2014 Sb., on Cyber Security. This certification will allow you to meet the requirements of the Cyber Security Act, use ISO/IEC 27001 and other standards from the ISO/IEC 27000 group in the development of information security management system (ISMS) architecture.
Three levels of expertise (specialist, expert and master) may be obtained in each of the security roles. These levels are related to the levels of the Cyber Security Certification product.
We train for these standards and regulations:
ISO/IEC 27001:2013 Information technology — Security techniques — Information security management systems — Requirements
ISO/IEC 20000-1:2011 Information technology — Service management — Part 1: Service management system requirements
Act No. 181/2014 Coll., on Cyber Security
Act No. 365/2000 Coll., on Public Administration Information Systems
The above standards and regulations are only the foundation stones. Other standards from the relevant groups or decrees build on them and are also incorporated in the training for better comprehensibility and applicability in practice with these standards.
Contact person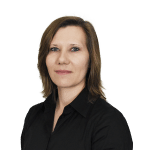 Ing. Lenka Mariánková
Product Manager